Header ​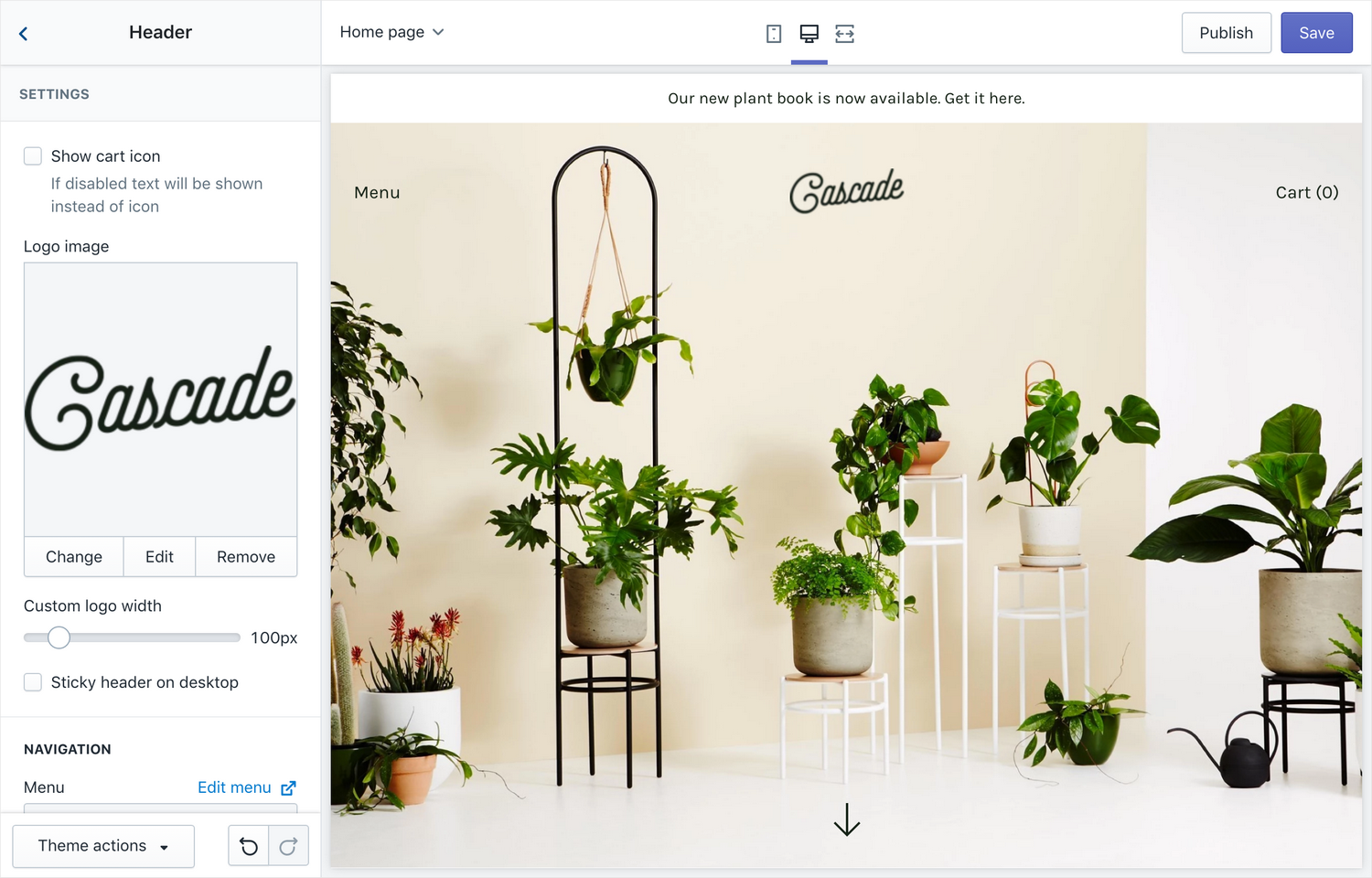 The header is a static section – which means it is displayed on every page of your shop.
Settings ​
Show cart icon – enable this to show a cart icon instead of just the text "Cart"
Logo – Upload a logo to use instead of your Shop's title
Custom logo width – the width of the logo in pixels it will be displayed in the header
Sticky header on desktop – make the header stick to the top of the screen when you scroll
Navigation ​
Menu – select the main navigation for the header
Enable links to drop-down link headings – If using a mega menu, enable this setting to enable links to all headings of your mega menu.
Show search – show a link to the search bar next to the cart in the header. Clicking on search will open the search bar in the modal.
Mobile menu ​
The mobile menu is the panel that slides out when the menu button is clicked on mobile devices.
Show menu icon – show a menu icon instead of the text "Menu"
Secondary menu – select a secondary menu that will be displayed underneath the main menu
Show search – show a search bar
Announcement bar ​
You can show an announcement bar which is displayed at the top of the header.
Show announcement- check this to enable the announcement bar
Home page only – check this if you only want the announcement bar to display on the home page
Text – the message you want displayed to customers
Announcement color combination – select one of your color schemes to use for the announcement bar
Link – make the announcement bar a clickable link
Banner Image block ​
To show a banner image on the home page of your site, add a Banner image block here. A banner is an image displayed at the top of your site with an arrow to drive customers to the first section.
The Classic preset showcases a banner. For a demo, refer to Demo: Cascade theme classic
Image – upload an image to use for the banner
Image – mobile (optional) – upload an image to use for the banner on mobile-sized devices
Image style – choose between "fit content" and "full screen". With full screen, some cropping may occur. If using "fit content" – a ratio of at least 5:4 is recommended to best work on mobile + desktop.
Text color – override the header's text color when banner image is present
Logo image – override the logo shown over the banner
Content ​
Add a heading and/or a button over the banner image.
Heading (optional) – add a heading to show over the banner image
Button text (optional) – override the logo shown over the banner
Content position – choose how to align the content
Text alignment– set the alignment of the content text