Custom liquid ​
This guide describes setting the Custom liquid section.
Use the section to add Liquid code, like app snippets, to create advanced customizations for your store. Refer to Shopify developers: Liquid reference We recommend hiring an expert if you're not comfortable editing Liquid code.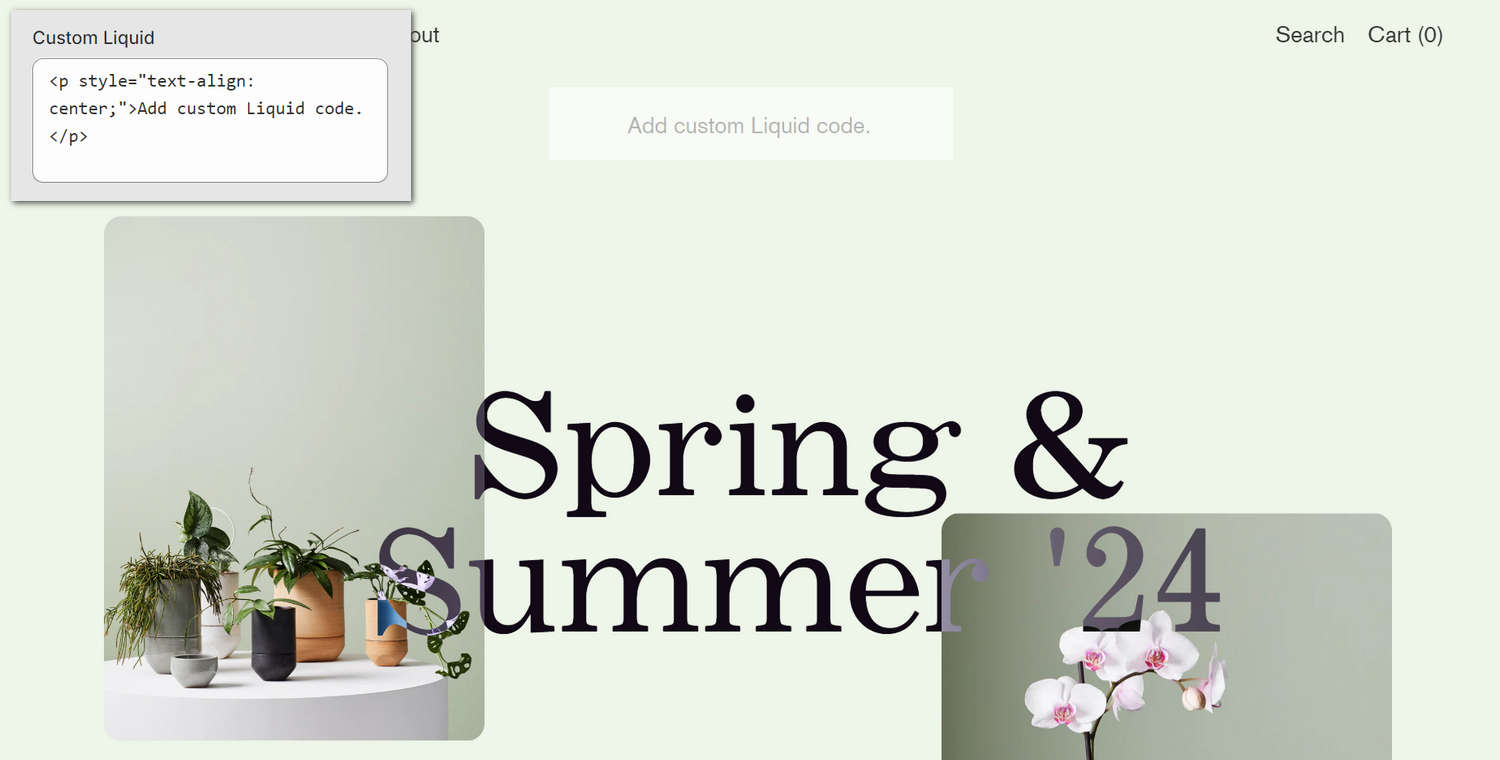 In the previous image, a Custom liquid section is displayed on a store's homepage. On the left, in the section settings, the Custom liquid box contains Liquid template language code. At the top of the homepage, the Liquid code is rendered as a paragraph of text.
For general guidance with modifying sections, refer to Sections overview and Shopify help: Sections and blocks
Set up a custom liquid section ​
To set up a custom liquid section:
Go to Customize theme. At the top of the page, use the dropdown to select a template that contains a custom liquid section.

Note

The custom liquid section can be added into any page, except Checkout and Giftcard pages. To add a custom liquid section into the current page, select Add section > Custom liquid. Refer to Shopify help: Add a section

From the side menu, select Custom liquid.

Select a section setting described in the following table.
| Section setting name | Description |
| --- | --- |
| Custom liquid | In the Custom liquid box, enter Liquid template language code. Refer to Learning Liquid: A guide to Shopify theme development |
| Learn about Liquid | Follow the link to Learn about Liquid at Shopify developers: Liquid reference |
| Color > Color scheme | Use the Color scheme dropdown to set the section's color scheme to Primary, Secondary, or Tertiary. Refer to Colors. |
| Color > Disable transition | Select the checkbox Disable transition to turn on/ off overriding any color transitions set in the section's theme settings. Setup defaults for this setting in Theme Settings > Colors > Transitions. |
| Spacing > Remove top padding | Select the checkbox Remove top padding to add/remove the spacing (padding) that's displayed above the section. Refer to W3 Schools: CSS Padding |
| Spacing > Remove bottom padding | Select the checkbox Remove bottom padding to add/remove the spacing (padding) that's displayed below the section. Refer to W3 Schools: CSS Padding |
| Advanced > Suppress section wrapper | Select the checkbox Suppress section wrapper to turn on/off spacing, colors, and containers for displaying the Custom liquid box's contents, inside the section. |
| Remove section | Select Remove section to delete the section from the current page. |