Product reviews ​
This guide describes setting up your store's Product reviews section.
Important
To use the section, you must have installed Shopify's Product reviews app before the app was unlisted from Shopify's app store in September 2023.
Use the section to share your customers' experiences using your store. On a product page, the section allows customers to submit product reviews and ratings, and read reviews and ratings submitted by other customers.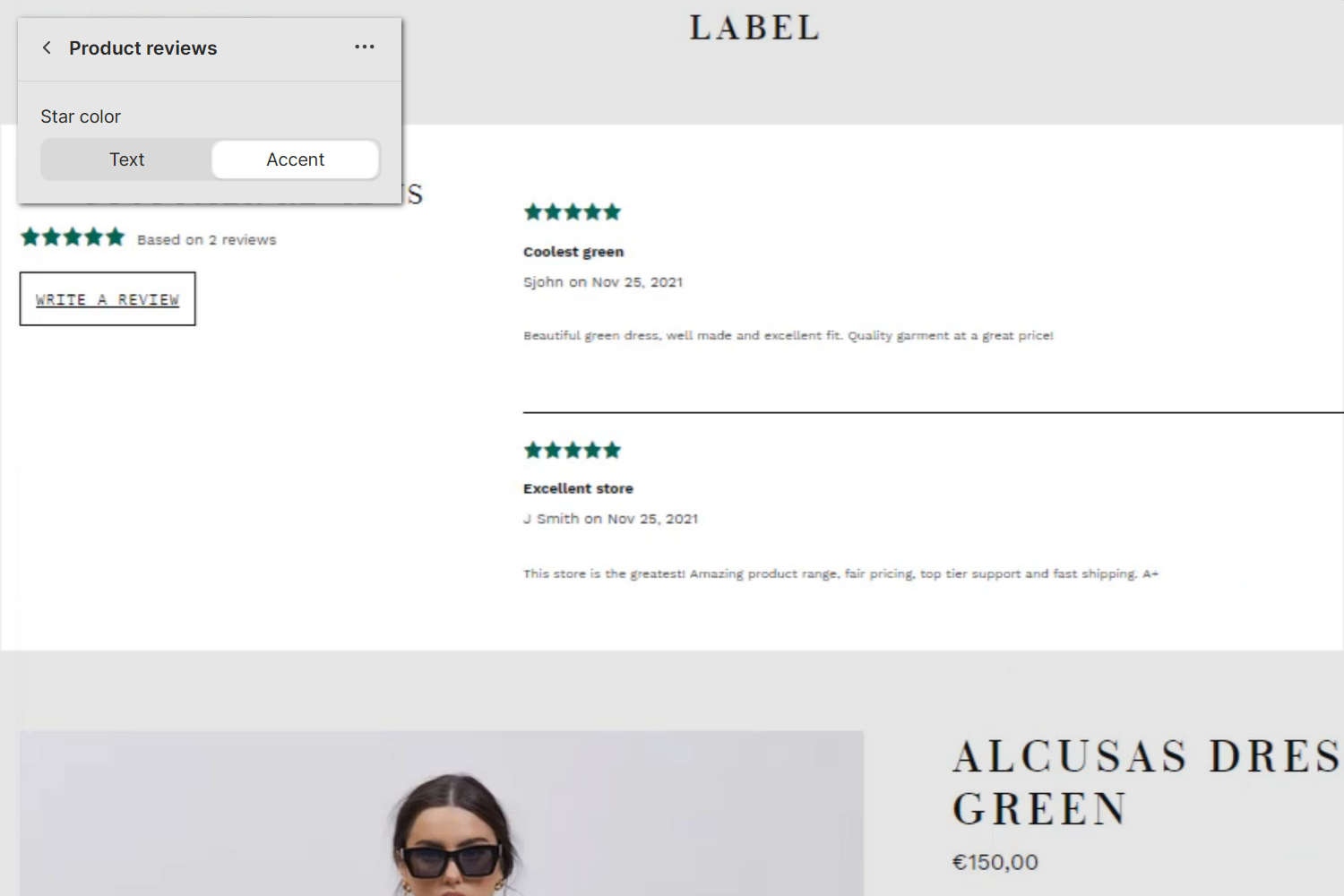 In the previous image, a Product reviews section is displayed on a store's Product page. In the top left, part of Theme editor's section menu is displayed. The menu option to specify a color for the section's star rating icons is set to Accent (green).
For general guidance with modifying sections, refer to Sections overview.
Note
The section requires using Shopify's Product reviews app to display a Product review block. To display Product review blocks:
Set up a Product reviews section ​
To set up a Product reviews section:
Go to Customize theme.

In Theme editor, at the top of the page, use the dropdown to select a page that contains a Product reviews section. For example, select Products > Default product.

Note

After you've used Shopify's Product reviews app to add review blocks, use the blocks inside a Product reviews section. The section can be added into the Default product, Fashion, Book, Preorder, and Music pages. To add a Product reviews section into the current page, select Add section > Product reviews. Refer to Shopify help: Add a section.

From the side menu, select Product reviews.

Select a section setting described in the following table.
| Setting name | Description |
| --- | --- |
| Shopify product reviews (link) | Follow the link Shopify Product reviews to install Shopify's product reviews app. Refer to Shopify help: Product reviews. To use the section, you must have installed Shopify's Product reviews app before the app was unlisted from Shopify's app store in September 2023. |
| Styling > Font size | Use the Font size options to apply the Body or Rich text style to text inside the section. |
| Styling > Button style | Use the Button style options to set the style for the section's Write a review button. The options are Outline or Solid. |
| Styling > Star color | Use the Star color options to set a color for the star rating icons inside the section to Text or Accent. |
| Theme settings | If available, select Theme settings to access additional settings for the section. Refer to Section theme settings menu. |
| Custom CSS | Select Custom CSS. In the box, enter custom CSS styles to apply only to the current section. Refer to Shopify help: Add custom CSS. To apply custom styles to your entire online store, refer to Theme settings > Custom CSS. |
| Remove section | Select Remove section to delete the section from the current page. |