Search ​
This guide describes the Theme settings > Search menu options.
Visitors enter search terms into your store's Search textbox to find occurrences of the terms throughout your store. Use the Search theme settings to specify the parts of your store to include in searches, and how the search results are displayed. Refer to Search behavior.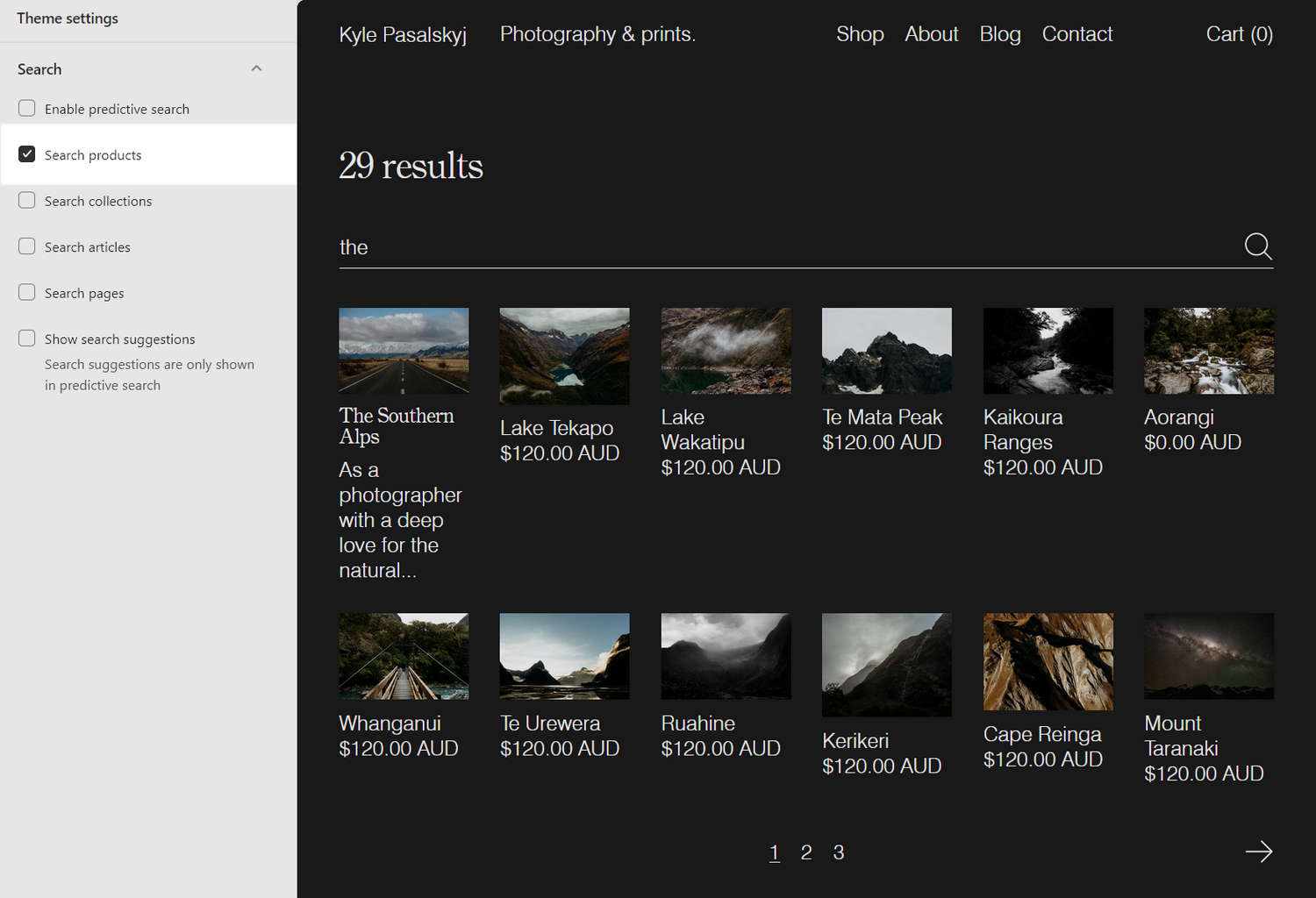 In the previous image, on the right side, the search term The is entered into the Search textbox on a store's Search page. Twenty nine store products that match the search term are displayed in the page's Search results area. On the left, in Theme settings > Search, to retrieve search results from the store's products, the Search products checkbox is set to on.
For general guidance with adjusting a theme setting, refer to Settings overview and Shopify help: Theme settings.
Set up search ​
To set up your store's search behavior:
Go to Theme settings > Search.

Select a setting described in the following table.
| Setting name | Description |
| --- | --- |
| Enable predictive search | Select the checkbox Enable predictive search to turn on/off predictive searching. As a visitor types a search term into the search field, predictive search suggests items in your store that match the search term. Refer to Shopify help: Predictive search. |
| Search products | Select the Search products checkbox to show/hide products in the search results. |
| Search collections | Select the checkbox Search collections to include/exclude collections in the search results. |
| Search articles | Select the Search articles checkbox to show/hide articles (blog posts) in the search results. |
| Search pages | Select the checkbox Search pages to include/exclude store pages in the search results. |
| Show search suggestions | Select the Show search suggestions checkbox to show/hide suggested items in the search results that match the search query. To use this option, enable predictive searching. Refer to Shopify help: Predictive search. |